We got the MRI scheduled! I got a call from Phoenix Children's today saying they had a cancellation and could fit Gabriella in tomorrow at 1pm, so I took it.
I immediately got on the phone to make calls and ensure orders were where they needed to be and the right things were being done. As advised by another heart momma- and by my own findings- I can only fully rely on my own efforts, I wanted to know it was all done. I had to make quite a few calls to get lab orders sent to the hospital, and get things in line for her stress test. Everyone knows what they are supposed to do, but the real test is tomorrow morning if everyone has things in their hands.
We are going to go to the office first and see if Gabriella can do the treadmill stress test. There are concerns about her height and getting it done, and if she cannot we will do the medicine induced one while she is under anesthesia. After seeing if the stress test works, we will head over and have the tests done. So please be in prayer for the anesthesia, blood draw, and accuracy of the tests. I hate having to put her through that.
And please be in prayer for her eating. Gabriella has really put the brakes on her appetite. Sure, its 'normal' for kids her age to have eating stages like this, but this isn't 'normal' for her. She has always been a fantastic eater, and when she would go through spurts of not eating, they were short lived. This is something that's been over a week at least, and she's lost a pound since our last echo. And she's on her second day of complaining and saying "I can't breathe" after walking a distance or climbing the stairs. I try to not think about those being signs of heart failure, but it's the truth.
* * * * * * * * * * * * * *
Other news for the day/weekend!
My nieces baby shower was a hit! They got so much stuff and look just about set for little Nick Jr! I am SOOOOOOOOOOO excited! September 3! I'm going to book my official guess at September 5, 2009!
Here is my neice and her pretty cool boyrfriend ;):
And one of my favorite pictures of her openning gifts because shes holding it to her belly: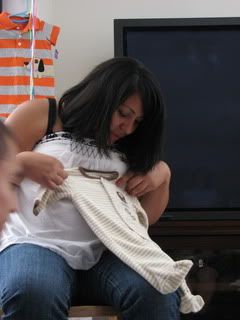 Last night we had a rockin monsoon! Tons of thunder, lightning, and rain! It was fun to watch, but not fun to deal with PJ's fears afterwards!
We had lunch today with my mom, sister and brother in law. It was nice! And we walked around the outdoor mall like we had NO sense. (It was 110) I resisted the urge to buy a purse I wanted, got Gabriella a pair of $2.70 earrings since the poor girl only has 1 pair, and got PJ a clearance pair of shorts!! I always feel good when I get things we need for so cheap! LOL
And some bonus shots from Saturday of Gabriella, my Godson Marko and their cousin Anthony Jr: