what is a wish?

A "wish" is a critically ill child's answer to the question, "If you could be anything…meet any body…have anything or go anywhere…what would it be?" The Make-A-Wish Foundation® of Arizona grants the wishes of children ages 2 1/2 - 18 whose physicians affirm that they have life-threatening medical condition.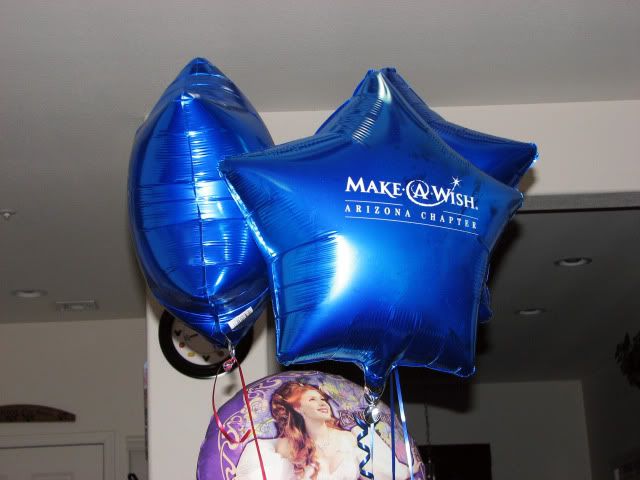 Make a Wish..... wow.
I mentioned previously, Gabriella has been approved by the Make a Wish Foundation to be granted a wish. As you can see above, the criteria for wish granting is not exactly something any parent wants their child to qualify for. 'Life-threatening'... *sigh*. But given the fact that we have no say over where life has already taken Gabriella and us, we are embracing the generosity of this organization with gracious and thankful arms.
Tonight, Gabriella's own special Wish Team came out to our house. Ama and Brian came first, with an arm-full of loving gifts. I understand now why they bring them out. Not to spoil the child, but to break the ice. Balloons, gift bags, t-shirts, pins.... it was crazy. For a split second, I felt I was sitting in my living room watching some unfortunate family on television on the receiving end of a charity organizations efforts to make a sickly child happy. Then I had to remind myself all that was true, minus the fact it was some other family. Gabriella opened her gifts and excitedly showed us.... they brought her a ballerina Barbie, a birthday party Barbie set and a crown and jewels. They must have gotten word she was a princess. ;) They even brought PJ a See 'n Say, which made me excited because my kids have never had one!!! Gabriella was so excited to show someone her wish book she had been working so hard on this past week, so she sat and showed Brian and Ama.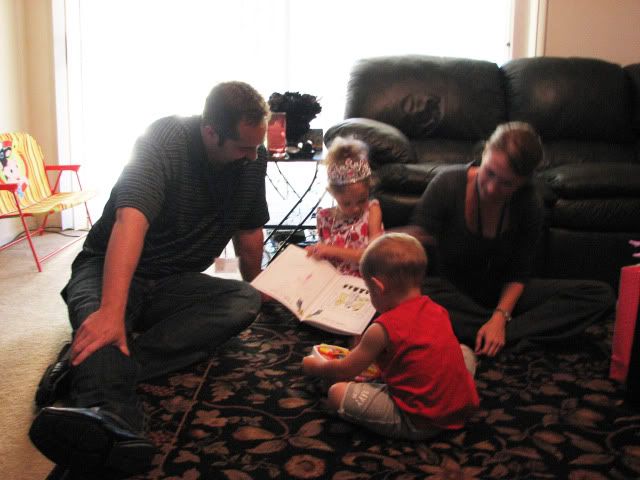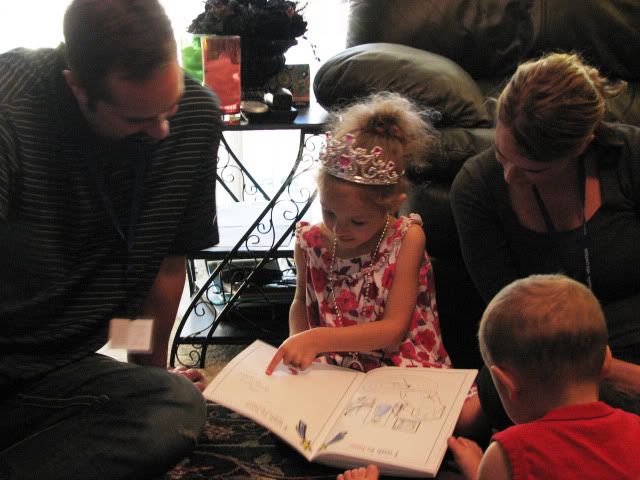 Christy, a co-worker of my niece and brother in law who heard of Gabriella and requested to be on her wish team, came later. She has been working for MAW for some time and you can tell how much she loves it! She brought pizza and Sprite, some of Gabriella's favorite eats. We sat at the table and did some paperwork while everyone ate. Christy asked Gabriella a TON of questions from her favorite color and candy to her favorite places, and interacted with her to get to know her better. Gabriella's answers were hilarious, as she has such a vibrant personality! She had everyone laughing multiple times!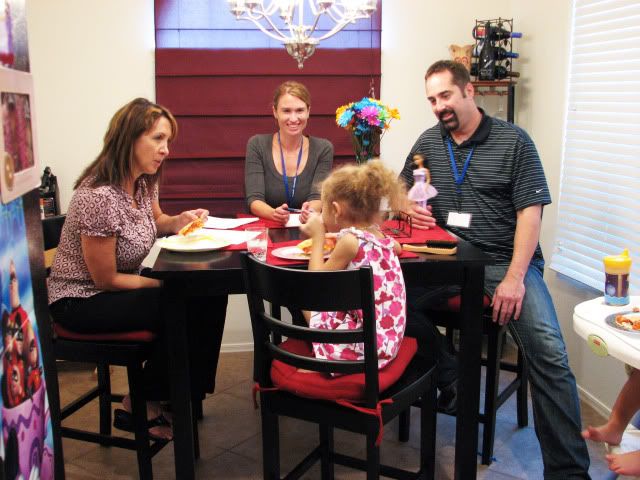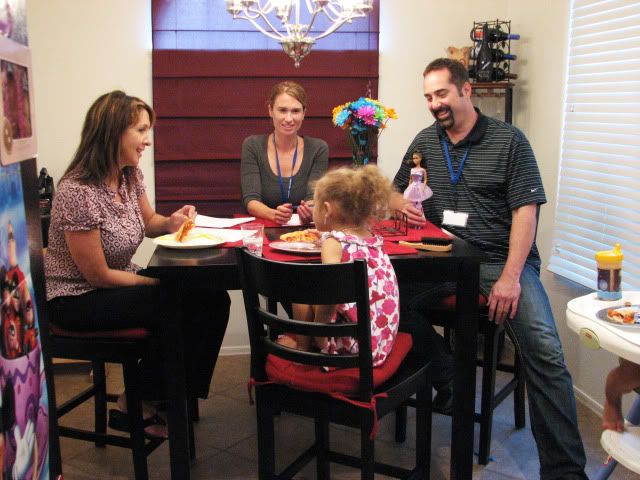 After all of her questions, and concluding what Gabriella's wish would be, I talked a bit with Christy about the process. It seriously is amazing what they do. They pick you up in a limo, take you to the airport, cover your transportation, rental car, lodging, tickets, food, souvenirs..... everything you need. It is the most pure and genuine organization I have ever seen. We went upstairs to her room for a while so she could show off her naked Barbie collection and massive amounts of Princess paraphernalia.
They were here for 2 hours and it was just wonderful. Though in the past we have taken our kids to Disneyland multiple times due to it being easy for us with location and having 2 incomes before, we have done fun things in our own town, and never deprived our kids of fun.... we could never grant an 'extravagant' wish for our daughter with this new journey in life. Since Gabriella was diagnosed, our financial situation has dramatically changed, yet we still try as hard as possible to seize every opportunity in our power so we never regret missing out on something. I cannot even begin to express my gratitude to what this organization does... it makes us feel like a better parent in spite of the struggles we have and will face. Like we are giving our child a chance to experience something amazing at risk they might not ever get the chance again.
So from here, the paperwork we did goes to the wish board for approval and will then go to a coordinator. That coordinator will get back to Christy with some possible dates- which it looks like September or October is our time frame due to being put on the transplant list soon. Once everything is approved, I will know the details. A week before the wish trip, our lovely wish team will have a send-off party for Gabriella and set us up with everything we need. I am jumping out of my skin excited to see Gabriella have her wish granted!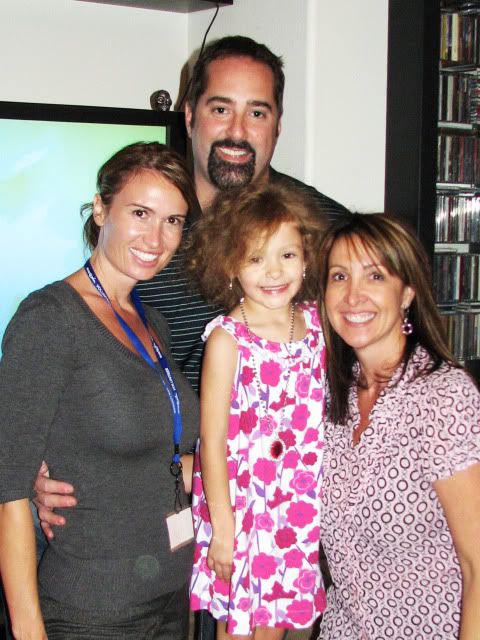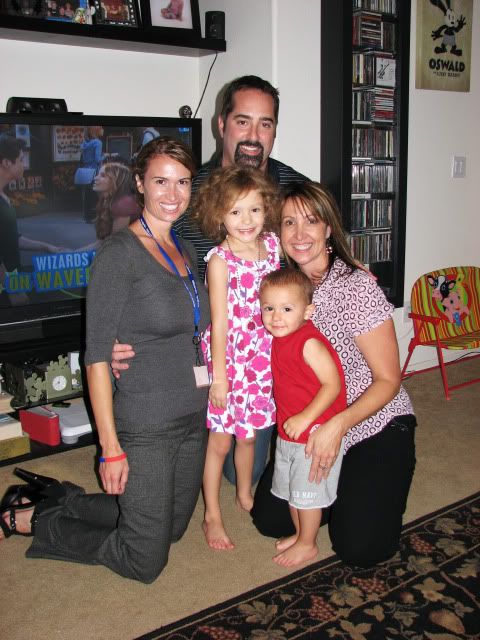 OOOHHH, and I suppose you want to know what she wished?
Gabriella wants to show ALL those "princesses" who the head Princess really is at Disney World!!! :)