I have a couple pictures that fall into random categories.... LOL!
If you knew me before Gabriella became my little superstar and attracted all my new friends and readers, you were fully aware of my Twilight addiction.
Last year
I went to the midnight showing of Twilight with many other fan-crazed women and girls (click link to see a picture of a younger looking me. I can see what stress has done to my youth in a year. Aye-yi-yi). Thankfully, this year I was able to go again to the New Moon midnight premier! It was so nice to go out and have some girl time! I went at 430p with Adorable-Laural, a friend of my sisters, and we got in line. My sister and mom met up with us later when they got done with their commitments. It was AMAZING to see the growth of popularity the book/movie got in just a years time!
The movie was fantastic. Again, because I read the books, I was able to fill in my own emotion and make it more than just a love-drama flick, but it definitely helped that Chris Weitz did a phenomenal job producing it!
Here is Laural, Me and my sista Kara waiting in line!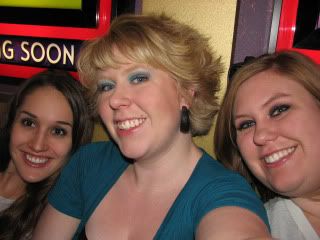 Here is a couple adorable pictures of my kiddos. One with goodies from family in Illinois and another random messy kid shot!