The wedding we went to this past weekend was nice! The wedding itself was very pretty, but it was even nicer being out of town in cooler weather! As much as I am NOT a fan of Flagstaff, I enjoy heading there for the different climate and scenery.
We left home at about 830a, and headed up there. I attempted to check in early but the hotel staff was far from accomodating. We got read in one brothers room, and just as we finished up, our room was ready to check into. The hotel we stayed in was completely disgusting though. All the housekeepers and maintenence people lived there, and had a weed smoking ritual every night. I may sound like a spoiled prude, but I really should have spent more to get somewhere nicer. I mean, there were dried boogers on the wall in the bathroom, filthy carpet that my son was crawling on, electricity noises coming form the bathroom outlet, a horrid smoke smell in even the non-smoking rooms, and who knows what else was creeping around in the mattress or bedding.
When we got to the wedding, and much to my suprise, it was outside. So I burned in the 10 minutes it took for them to get married. It really is rediculous how fair I am. The ceremony was short and sweet, and the location was gorgeous.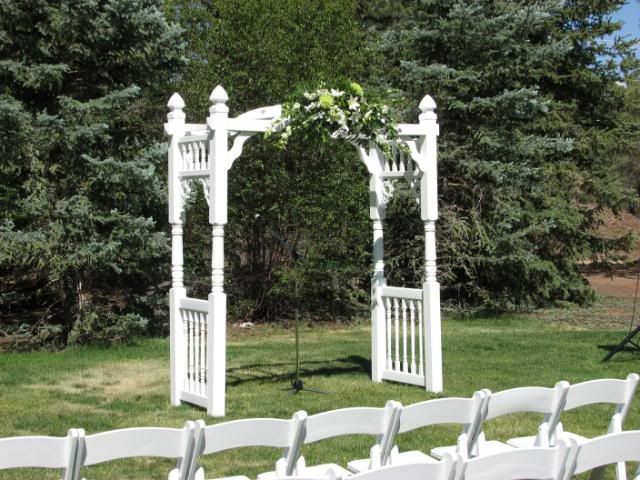 During the reception, my 2 neices and one of their boyfriends randomly decided they wanted to put holes in their head, and who else did they ask to take them than their favorite Tia, me! So we went up there and I was my neices 'mom'. Ok, so I am 26 and we said she was 16, but it got the job done. We went even further to say I was her boyfriends legal gaurdian so he could get his done. Hey, at least it wasn't tattoos...... We went back to enjoy a bit more of the reception and headed back to the dive-tel.
It was nice to get away, but it is WAY too exhausting to jump right back into work