Monday was a holiday, so our typical Monday clinic was cancelled. Paul flew home to Arizona that morning to load up the car and drive back Tuesday with PJ! Later in the afternoon on Monday, we got a call from Gabriella's cardiologist from back in Phoenix, who had been in the area for the weekend and wanted to stop by and see Gabriella on his way home! He ran in to visit with Gabriella for a few minutes while his family rested off the beach sunshine in the car… lol. Excuse Gabriella's sedated look, she was napping when he came.
Because Gabriella is so fresh from transplant, they scheduled for us to go in on Tuesday for a make-up clinic appointment. The doctor heard that Gabriella pericardial friction rub was very loud and strong. The best way for me to explain it is it sounded like 2 balloons running together when her heart beat. They started her on oral steroid to help relieve this. At today's clinic appointment, the doctor said it was improving, so we are very grateful!!!!!
Paul and PJ got here in amazing time Tuesday evening, making it in just short of 5 hours. I was relieved they stayed safe on the road. Here is PJ and Gabriella together after being apart 2 weeks!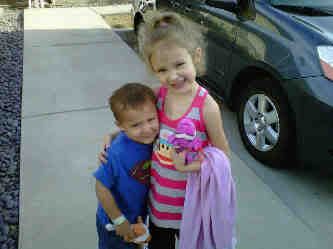 Wednesday we met with Dr. Razzouk, the cardiac surgeon who did the transplant. He said she was doing amazing. His only suggestions were to "go enjoy her new energy and count your blessings!"….. that's a prescription I can fill. He said it was so wonderful to see a successful outcome like Gabriella's since he occasionally had to see the opposite. We feel very fortunate, still, for the ease of this whole process. He didn't schedule a follow up and said he will see her at the discretion of the transplant team. I got the most wonderful picture of them together, too!
After the Doctor, we took some cookies and brownies up to the nurses on the Cardiac floor where Gabriella was. Luckily, 3 of her fantastic day nurses were there! We got to see some people and take a picture with her nurses. It was so great for them to get to see her in a healthy state!
Today at clinic, the doctor gave me 'orders/permission' to start venturing out with Gabriella. Though the thought of this makes me completely creeped out because of germs, she encouraged use of the mask and clean hands. I'm not sure yet how daring we will get, but they wrote down a list of some great local places to visit for fun.
Gabriella passing time waiting for her ECHO: