We just left our sleeping beauty in the loving, faithful and capable hands of her medical team. My emotions are high and heart full.... Gabriella has been given a new chance at life.
She wheeled past us almost exactly 7 hours after we left her and I couldn't believe how great her coloring was. I didn't know how pale and washed out she was until I see her now. I'm sure that will keep proving true with her activity and energy!!
After they got her in, Dr Razouk came out to let us know how it went. No major issues and the heart was strongly beating right away. He told us the pressures in her lungs were high and he was surprised she was doing as well as she had been. She was definitely protected, all glory to God!! We would have found this at the cardiac cath which I'm sure would have increased her listing status. He spent a lot of time ensuring there was no bleeding or issues before closing her up.
I asked about the donor family. I know they won't tell me much. But Dr Razouk broke down. A man who just took a heart and placed it into a human body, after years and years of doing this, was in tears. He said it was tragic. It was in that instant I took on the burden of grief for the mother of Gabriellas donor in a way I cannot describe and was not prepared for. It is unlike anything I can describe right now, but the feelings in my heart run deeper than I can express.
On top of everything obvious, I ask for prayer for her brain. Being on bypass can cause swelling and strain on the damaged area from her stroke, worsening some symptoms. We are going to watch it closely and see how she does as she wakes.
Here are some pictures of Gabriella when we left her. They plan on trying to start extubating her in the late morning. She has a central like in her neck, arterial line in her arm, 2 IVs, a foley catheter, 2 chest drain tubes and 2 pace wires just incase her heart rate flips out. She is going to show them what a fighter and miracle baby she is over these coming days!!!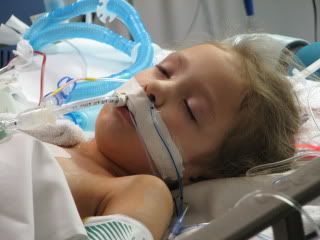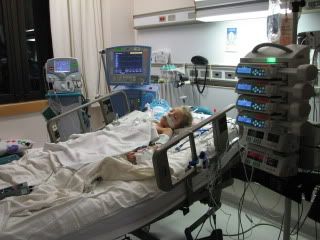 We are going to get a little sleep in. Until tomorrow, my amazing friends and family!
God is amazing, and I have never seen a bigger miracle than the one performed on my child tonight. We praise you with all of our being, Jesus!